Minneapolis Streets 2030
In 2030 our streets will reflect our City values. Our streets will be designed to address a climate emergency by emphasizing low- or no-carbon travel. Our streets will add protection for people walking and bicycling and will be designed to prioritize an effective transit system that serves all trips. Our streets will be organized to enhance access to jobs. Though our streets will continue to serve car traffic, our future depends on our ability to increase the city's population as projected in Minneapolis 2040 without the car traffic associated with growth. This plan does not eliminate places for people to drive, it simply rebalances space to incentivize and allow for low carbon transportation options.
To that end, there are three major metrics that we can monitor that reflect reaching our goals: mode shift, greenhouse gas reduction, and reduction in vehicle miles traveled, which emphasize the TAP's focus on climate and equity.
Shifting modes by 2030
Mode split measures the percentage of travelers using a particular type of transportation (walk, bike, transit, car) for a particular trip (work, school, errands). Mode split data is collected from the Metropolitan Council through the Travel Behavior Inventory, which has been collected every 10 years but will be collected more frequently moving forward. This dataset accounts for all trips taken by all people in a household.
Reflecting a reduction of car trips and an increase of walking, biking and transit trips is important to frame the strategies and actions of this plan, which is expressed as shifting modes.
All trips starting and ending in Minneapolis; mode split (2010) and mode split goal (2030)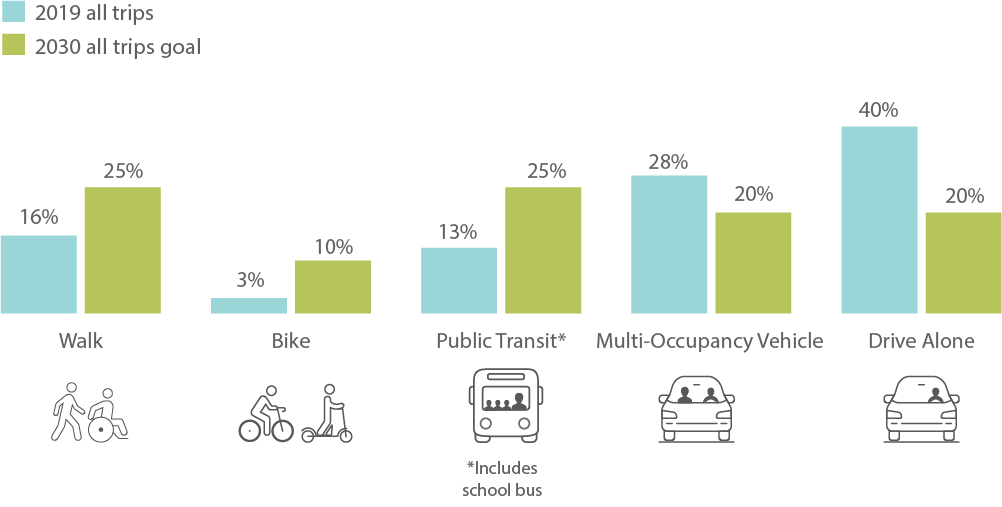 Source: Metropolitan Council, Travel Behavior Inventory, 2019.

---
There are six key reasons to set a 2030 mode shift goal: